Home
Lowell Young – Environmentalist and Democrat!
Lowell Young, a former member of the Mariposa Democratic Club, is making news and progress in his efforts to create a proposed federal land link between Yosemite National Park and Kings Canyon National Park.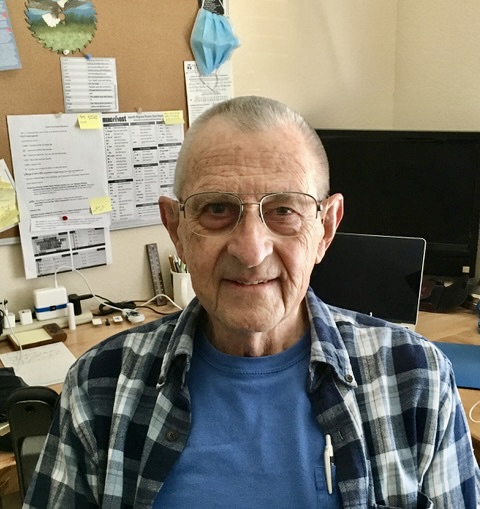 Lowell was recently featured in the September 18 issue of the Audubon magazine:
"A juvenile Bald Eagle soars high above Lowell Young on a sunny day in Yosemite National Park. The sight fills the former longtime president of Yosemite Area Audubon Society with admiration as he peers up at the majestic bird from a meadow rimmed by fragrant ponderosa pines. 'This is where I belong,' he says." (Audubon magazine, September 18, 2023.)
You can read the Audubon article here:
https://www.audubon.org/news/meet-88-year-old-unlikely-birder-quest-link-two-famed-national-parks
The Mariposa Democratic Club joins the Audubon Society in recognizing and applauding Lowell's work on behalf the birds, habitats, and citizens of California and the United States.
Much like Ansel Adams's classic work "The Range of Light," Lowell's work is to establish the "Range of Light National Monument."
https://www.unitetheparks.org/_files/ugd/ce2365_1452a7ec6b46429c8be65ca466444fc8.pdf
The Range of Light National Monument will illustrate the magnificence of the natural world and the need to protect it and celebrate it.
Ansel Adams was a life-long Democrat.
https://www.raabcollection.com/literary-autographs/ansel-adams-may-1
and so is Lowell Young.
We are proud that he and his wife, Sue, were members of the Mariposa Democratic Club.
The Mariposa Democratic Club believes in supporting Fundamental Freedoms. Ansel Adams, Lowell Young, and Sue Young believe in that too, especially the freedom to make our planet livable for our kids, grandkids, future generations, and "juvenile Bald Eagles."
Congratulations Lowell!
The County Fair: A Success!
The annual Mariposa County Fair was held over Labor Day weekend, September 1-4, and the Mariposa Democratic Club (MDC) showed up and showed out! We got together on Thursday night to set up our booth and proclaim our theme, "Freedom!"
An important part of our Freedom proclamation was to ask visitors – Democrats, Republicans, Independents, everyone! – "What Does Freedom Mean to You?" We set up a flip chart and asked visitors to write down their responses on post-its and to post them to our flip chart. They were happy to tell us what they thought. We got more than 250 responses over 4 days at the Fair.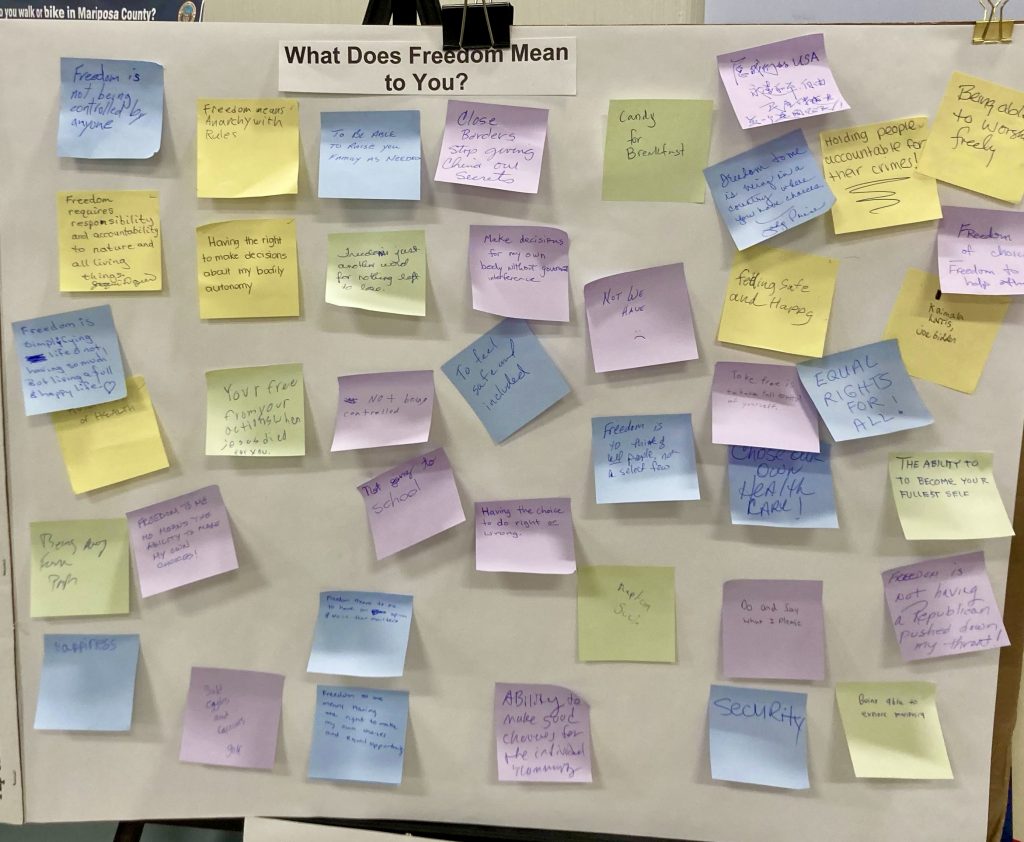 Check out what we heard and learned in the "What Does Freedom Mean to You?" article on this site.
Our Float in the Parade!
We had a great time putting together our float for the County Fair parade. It was a grass roots effort to create an exciting and positive reflection of what we believe as Mariposa Democrats. Hand-made signs, bold banners, red white and blue balloons! Everyone helped. Here are some photos.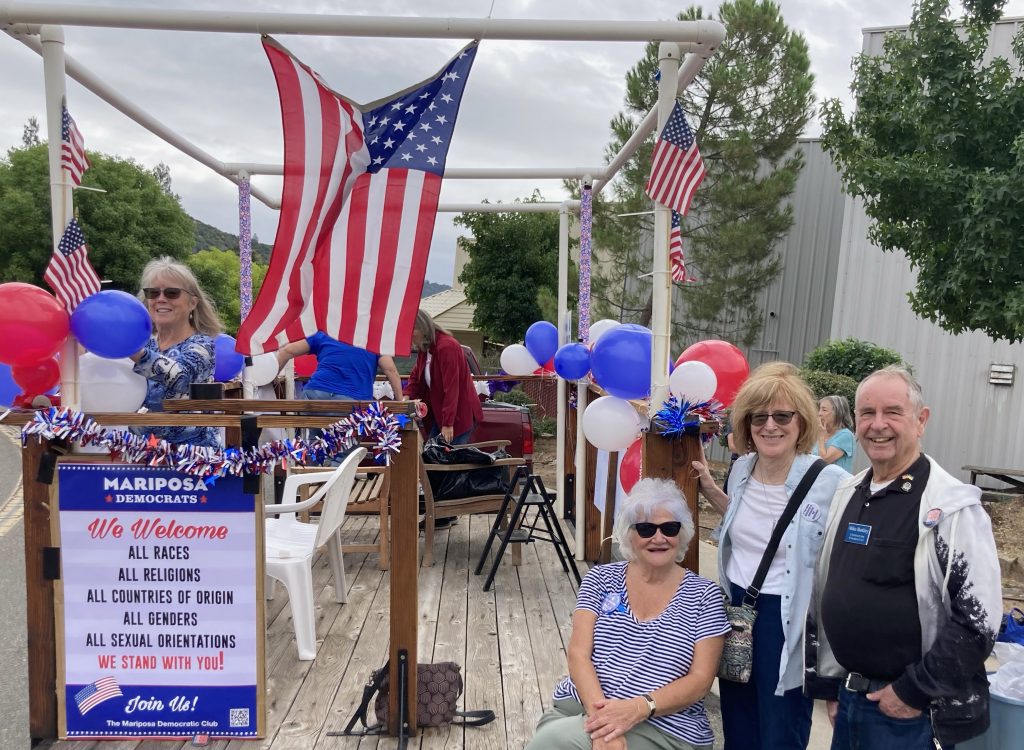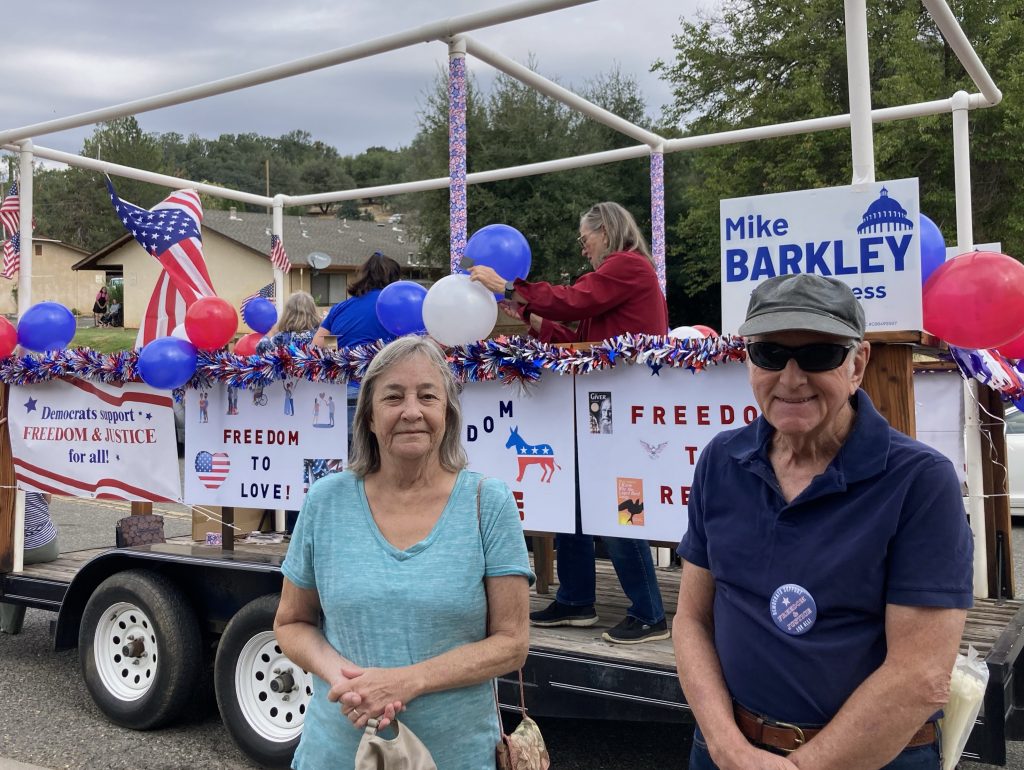 We were proud to be a part of the parade and to wave to everyone and communicate our themes and values.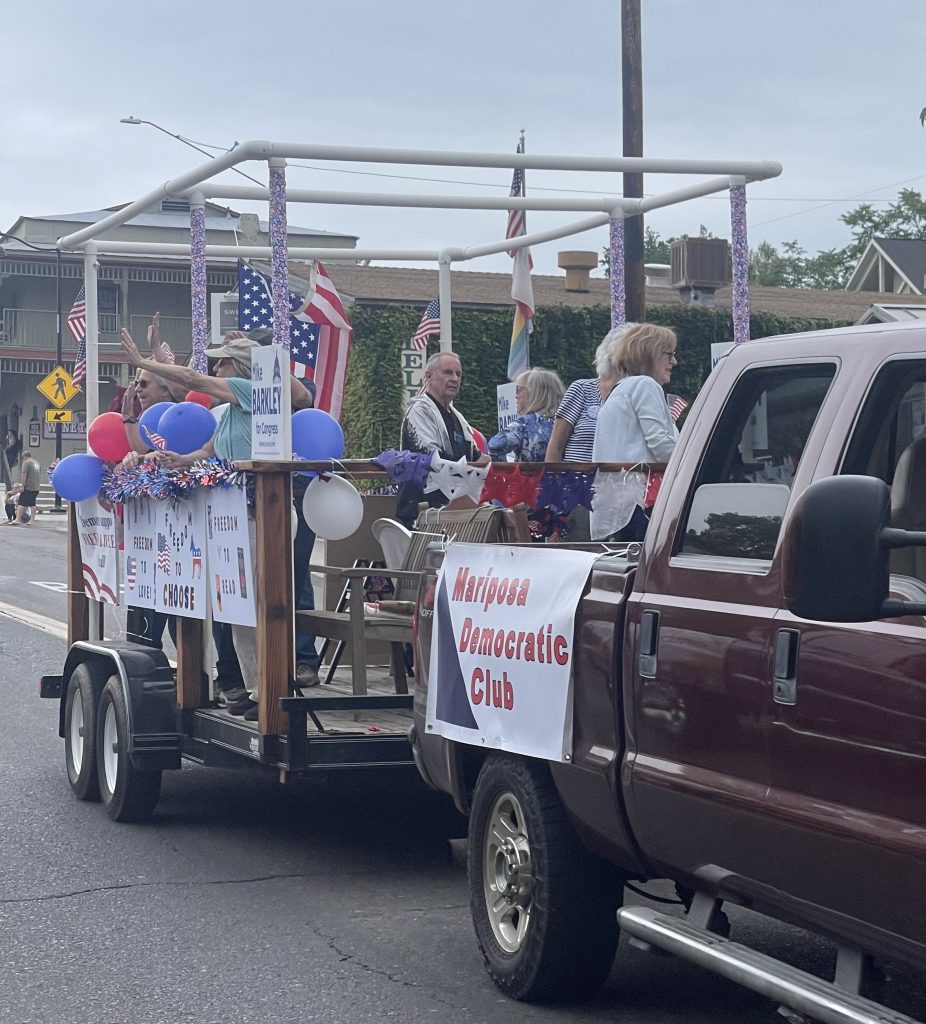 Our Booth at the Fair!
We were also proud to welcome visitors to our booth at the Fair. It was a small booth – compared with our competitors! – but it was a grass roots effort with handmade posters and free buttons and free blueberry taffy and free American flags! It took some effort, but everyone contributed, especially Kim Monson, our president.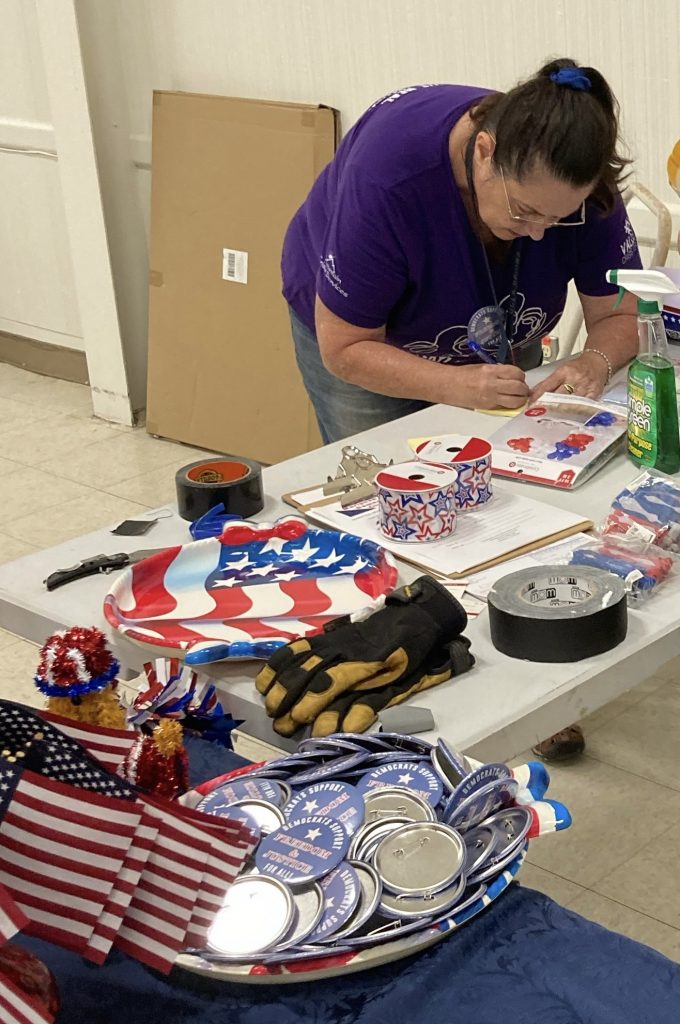 The booth looked great, and we had a wonderful time greeting visitors. Here are some photos: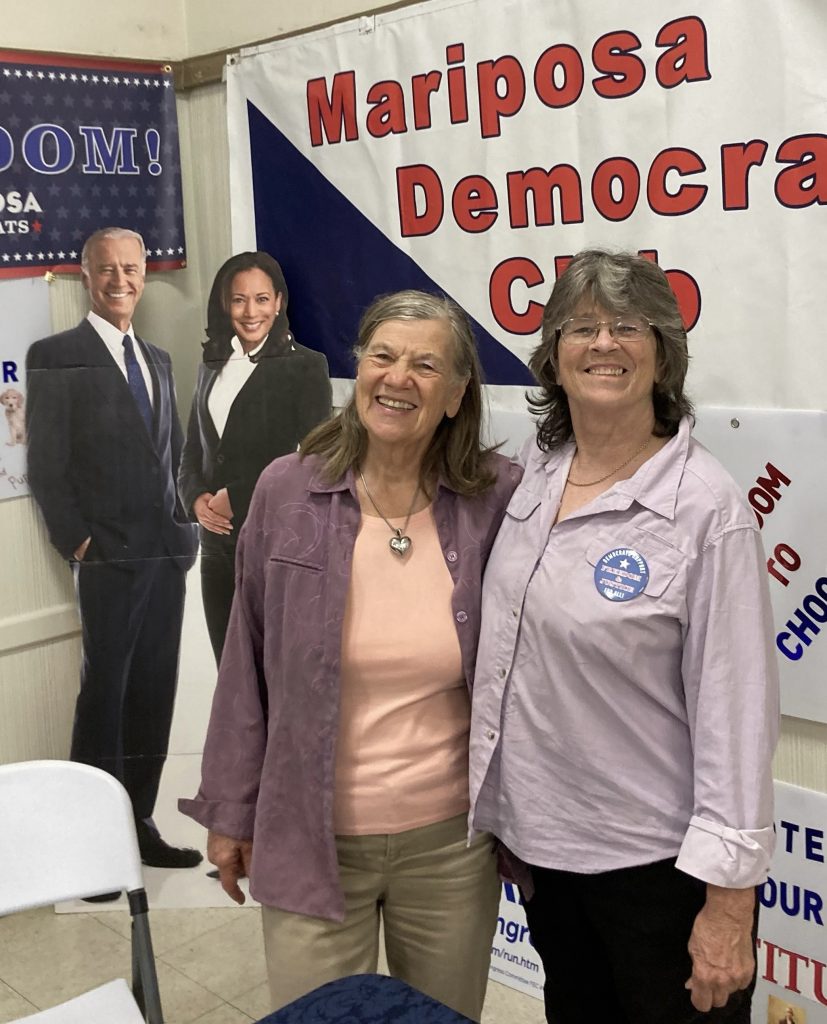 Over the four days of the Fair, we estimated that more than 250 attendees stopped by our booth. We were happy to greet them and thank them for attending the Fair and for talking with us about their concerns and issues regarding our country and democracy.
If you believe in freedom and liberty and justice for all, please join us!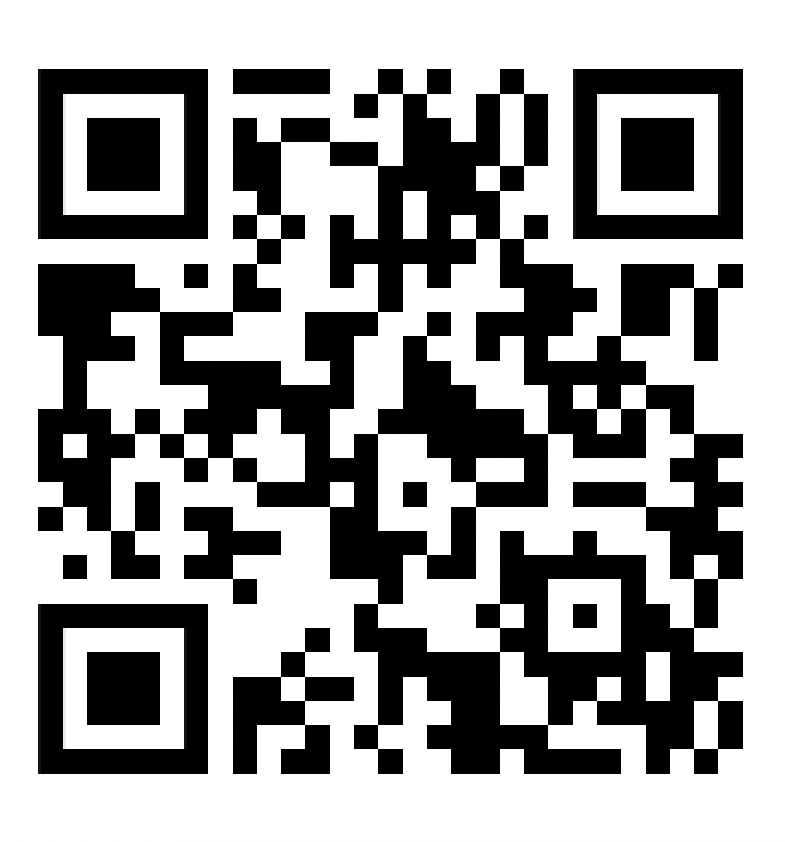 Remember: Your Vote Counts! Register here to vote.
What Does Freedom Mean to You?
The Mariposa County Democratic Club wanted to engage with Fair attendees, so we asked them; "What Does Freedom Mean to You?"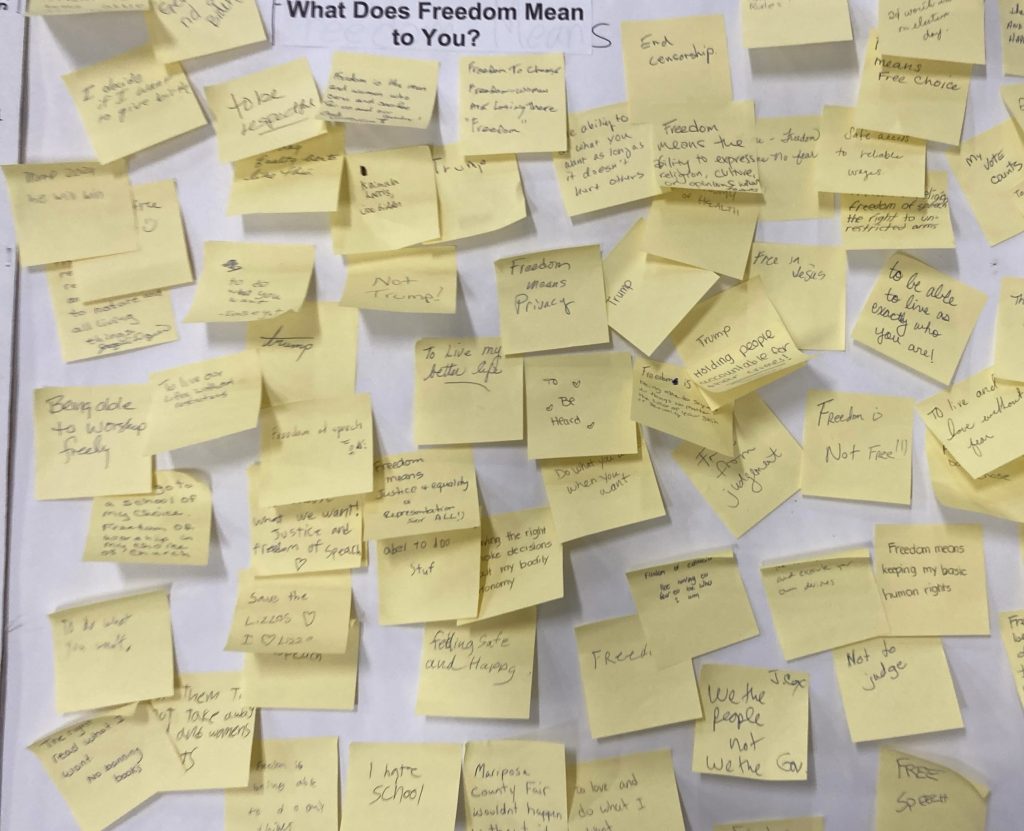 Visitors wrote down their responses on post-its and posted them to our, "What Does Freedom Mean to You?" flip chart. We got more than 250 responses! Everybody thanked us for the opportunity to express their opinions and thoughts.
Here is some of what we saw.
Some respondents were youngsters: "Freedom from School!" "Freedom to Ride!" One child, who took a piece of blueberry taffy, had his mother write, "Freedom to have candy for breakfast!"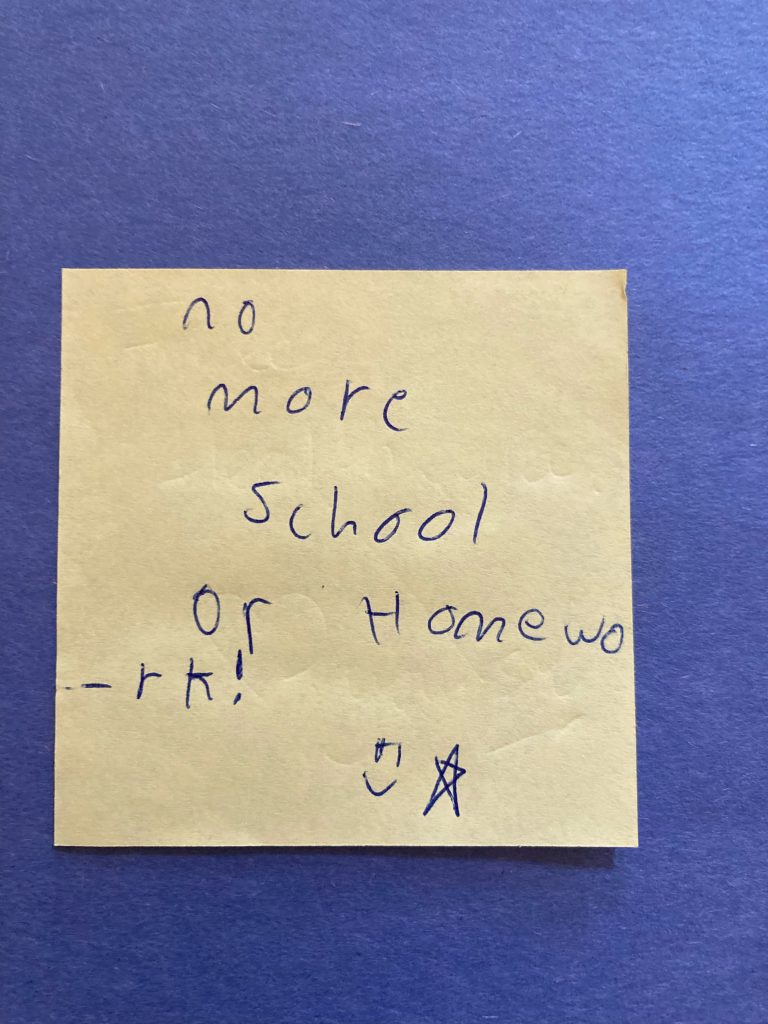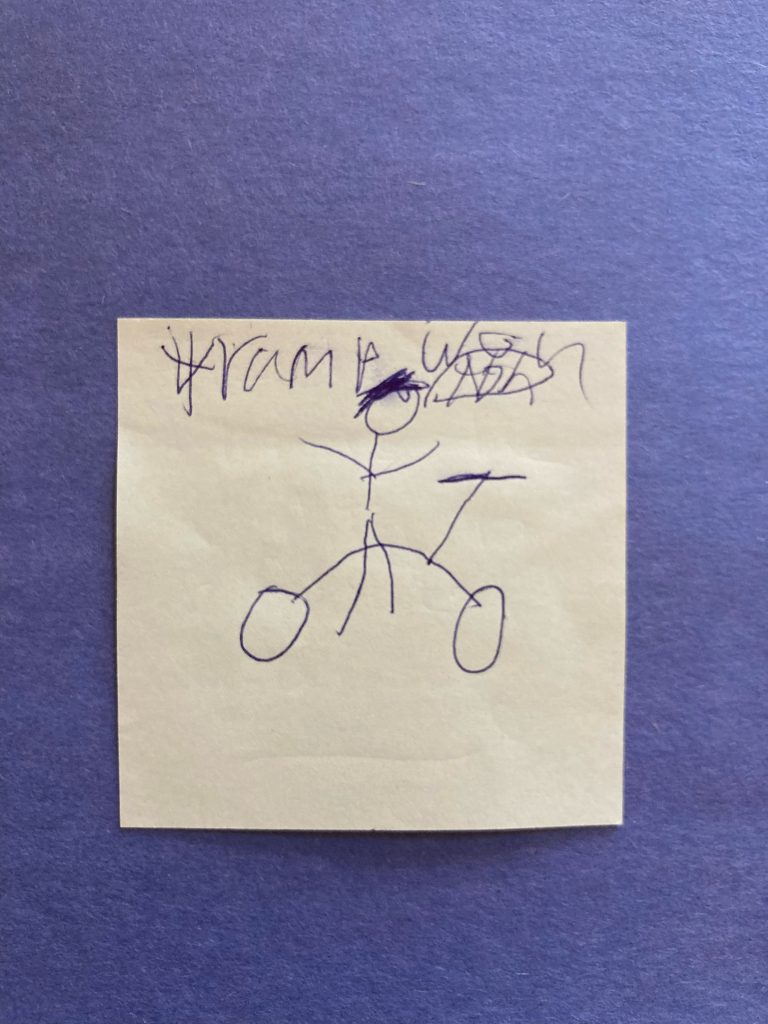 Some focused on the issues: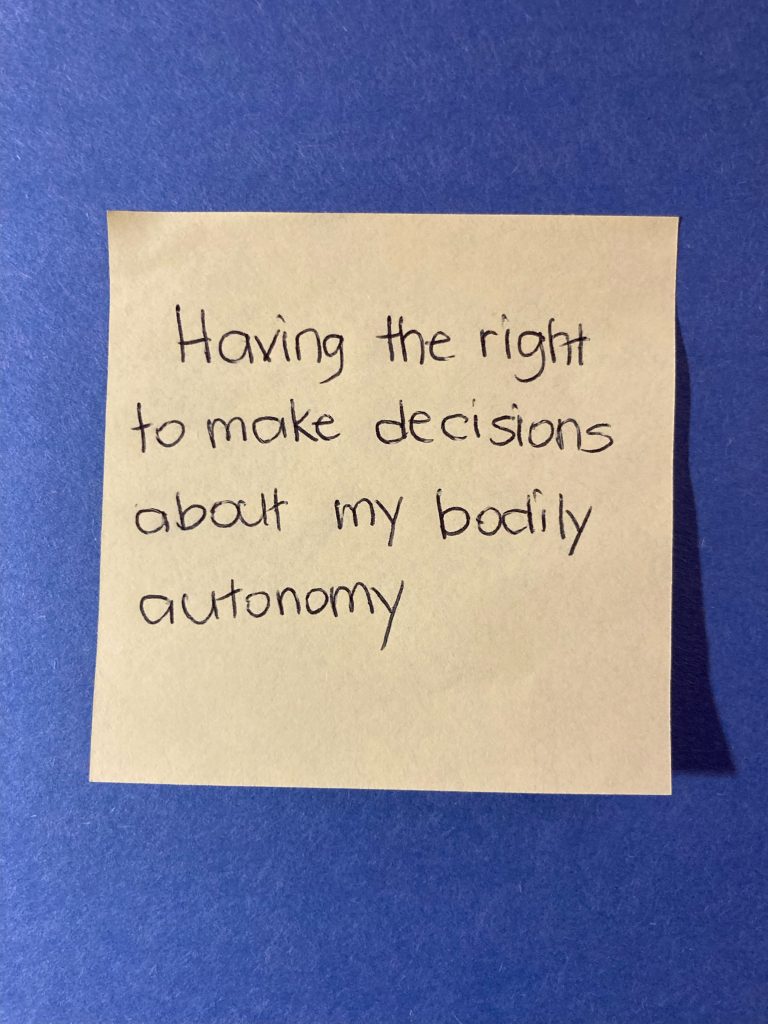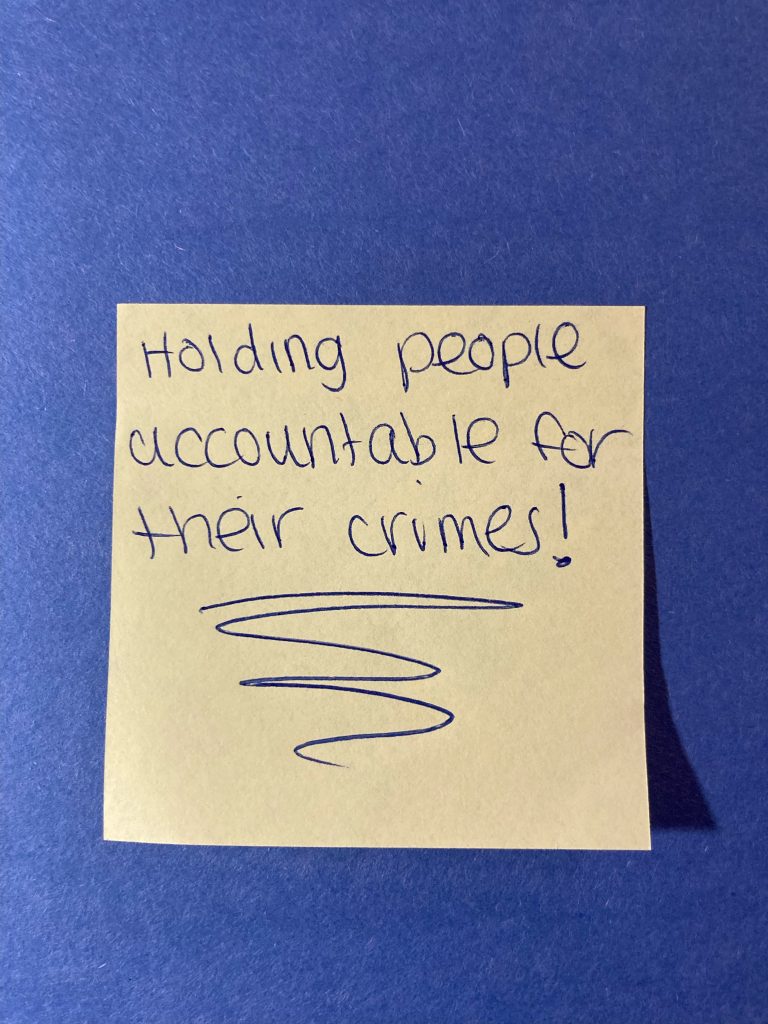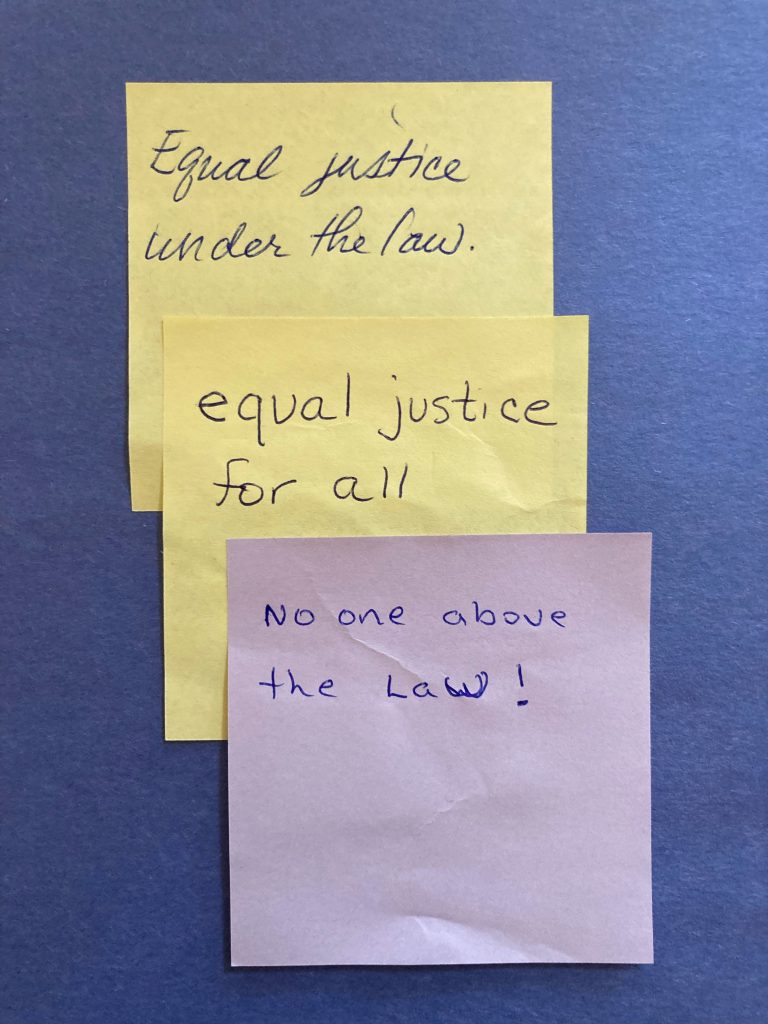 Some were inscrutable: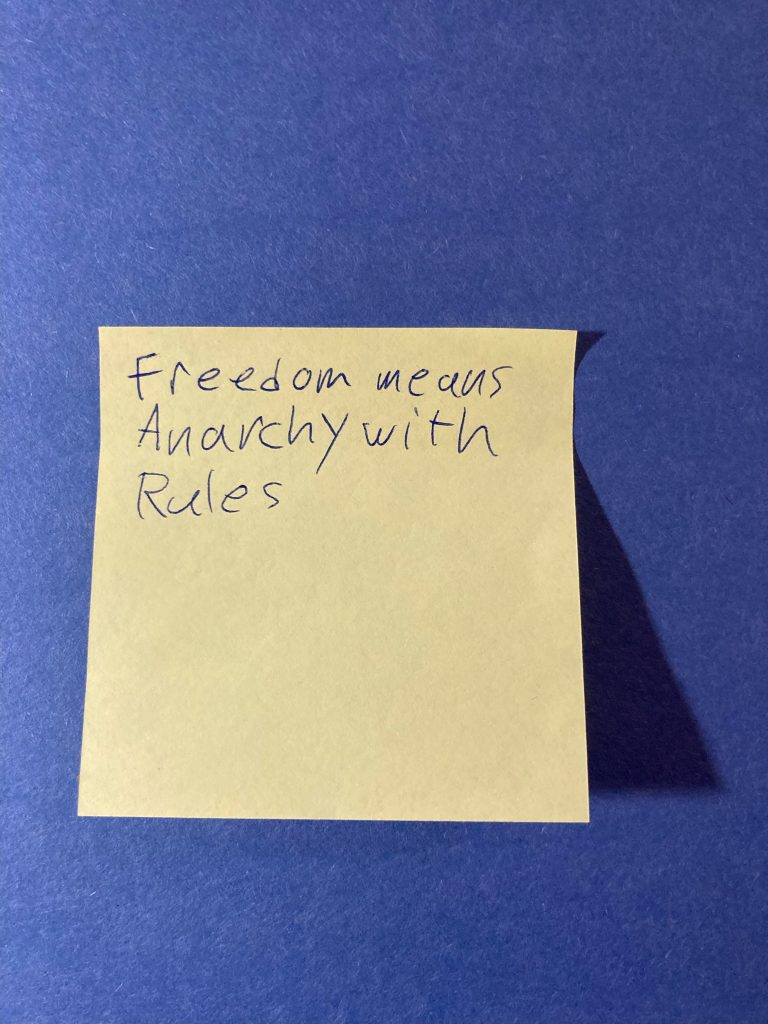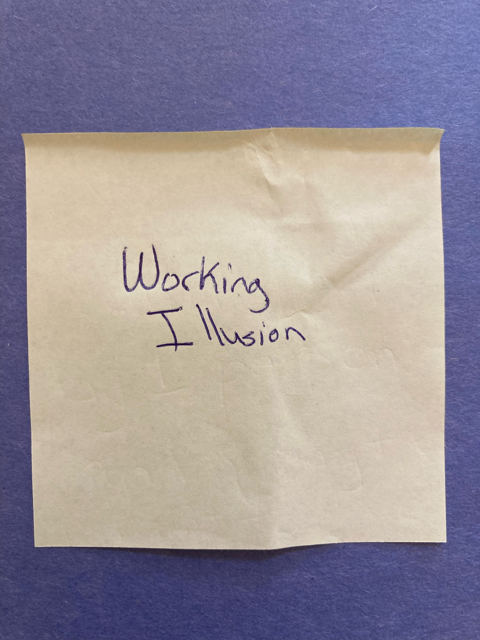 Others were forthright!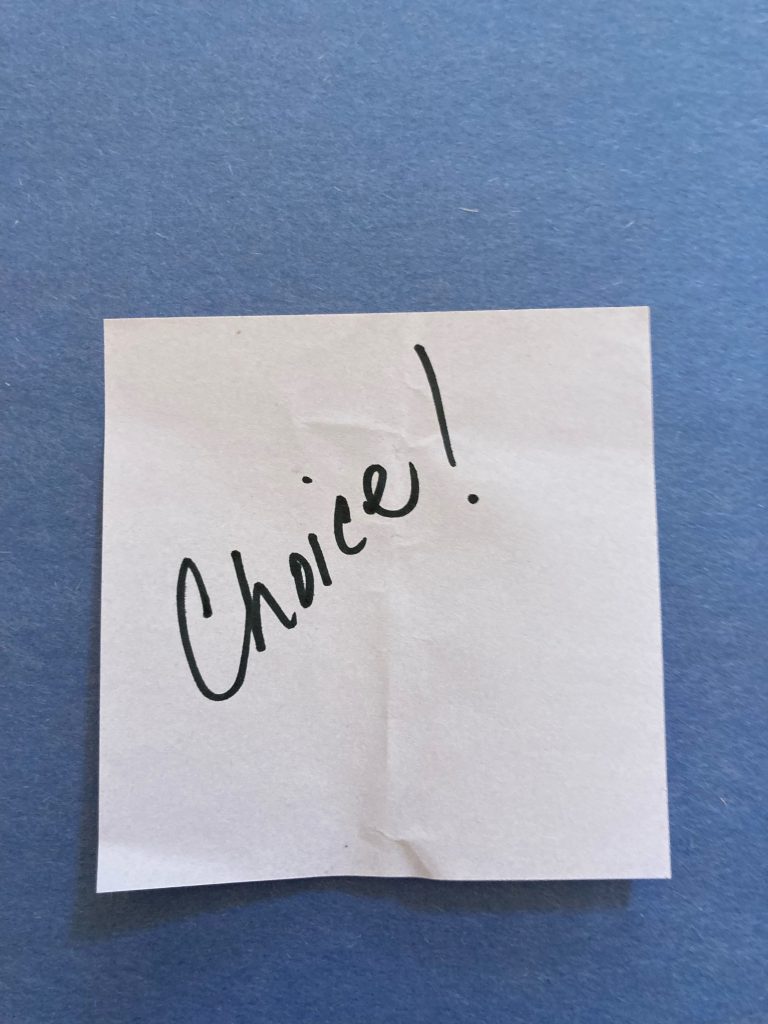 Some were from Democrats, ("Biden!"); some from Republicans, ("Trump"); and some from Independents. ("Freedom!")
But all were proud to share their opinions with us and with everyone else at the Fair.
One very special post-it was written in Mandarin.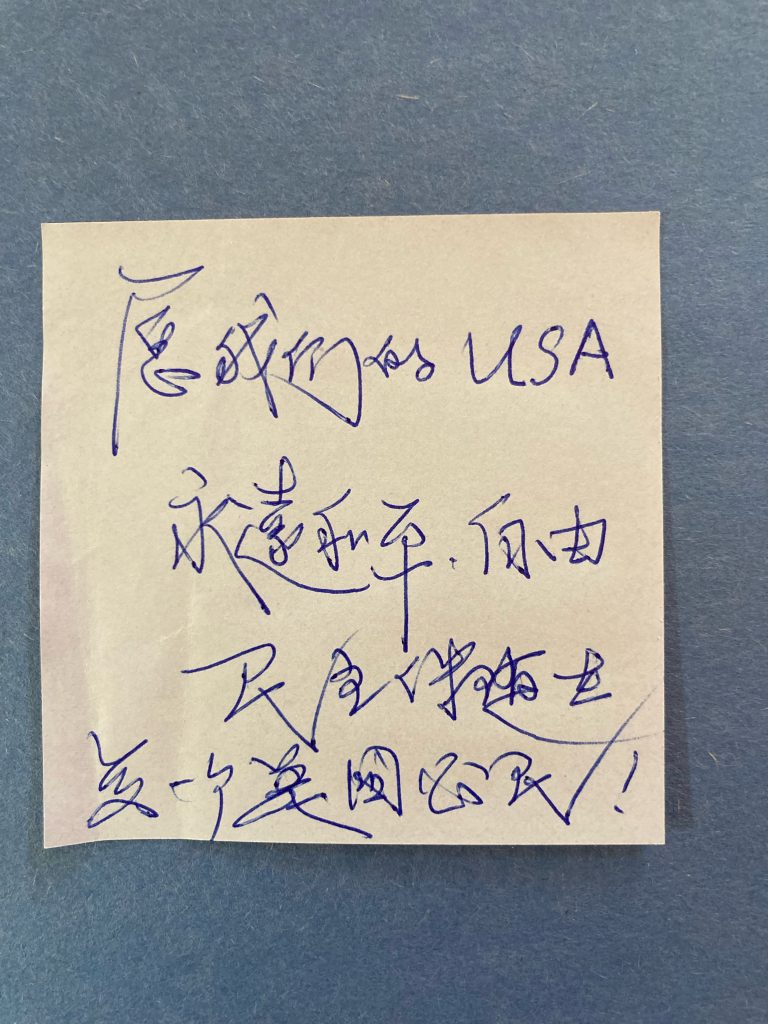 It translate as: "May our USA have peace, freedom, and democracy throughout our lives. Signed: A United States Citizen."
It was one of the best post-its posted!
Thanks to all who contributed!
Some Who Stopped by Our Booth at the Fair
We had hundreds of visitors who stopped by our booth at the Fair to support us and argue with us and acknowledge us. It was a great opportunity to meet people, hear their views, and learn!
We thank everyone who stopped by. Many answered our question, "What Does Freedom Mean to You?" Many just stopped by to say hello and thank us for being there. Some stopped by to express views different from ours.
But we want to thank everyone who visited with us!
Here are a few of our visitors' comments.
A 4-Year-Old: "Freedom is having candy for breakfast."
A bunch of teenagers: Freedom is "Trump." Question: "Do you follow politics?" Their responses: "No."
Sheriff Briese: "How's it going?" Our response, "Going well! Thanks for stopping by and thanks for being present at the Pride event at the courthouse in June." He said he was happy to be there.
A middle-aged woman: "Yeah, freedom… free money, free medications, free food, free tuition, free housing. It's all free to you Democrats." Our response, "Yes, we're the richest nation in the world. We need to help those in need."
A 60-year-old man: "I was born in Mississippi in 1951. You can imagine what that was like. It's great to see you here today. Thank you!"
A 50-year-old woman: This is great! I love to post my thoughts about freedom!
A 65-year-old man: "You don't want to know what freedom means to me!" But he did tell us, and posted this: "Close borders. Stop giving China our secrets!" His daughter: "I'm a Democrat. We don't talk politics!"
A 35-year-old Cal Fire Worker: "What does freedom mean to me? That is a deep question! I need to think about that."
Another Cal Fire Worker: "Easy. Freedom means liberty!"
A 25-year-old woman: "Freedom is my right to choose!"
Tim D: Architect, retired: "Glad you are here."
Caroline K: Longtime supporter: "Happy to see you at the Fair."
Miles Menetrey: He did stop by the booth on Friday and was one of the first to post a note on our "What Does Freedom Mean to You" chart.
Ben D: All of our posters fell down on Friday morning after we had hung them all up on Thursday evening — because we didn't have the right tape. Ben came to the rescue and said, "How can I help?" We got everything back up with his help. Thank you, Ben!!!!
Michael Matheson: He stopped by to introduce himself and announce that he's running for the Assembly for District 8. He said that he looked forward to discussing his views on issues like reducing forest fires with proactive management and lowering insurance costs; rebuilding medical infrastructure and expanding access, and supporting law enforcement. He'll be a guest speaker in October.
Our Unofficial Poll at the Fair
We collected all of the post-its at the end of each day and entered them into a database to discover what Fair attendees wanted to tell to us about what freedom means to them. We got 250 responses and assigned each response to a freedom that the Mariposa Democratic Club highlighted at our booth. Here's a breakdown of what we learned.
26% of the respondents said that the "Freedom to Live and Love Without the Fear or Discrimination," was the freedom that meant the most to them.
21% said the Freedom to Choose – education, religion, what to read, where to go" meant freedom to them.
16% said that Freedom of Speech was most important.
12% said it was the Freedom to Vote.
Surprisingly — only 4% of respondents said that freedom meant access to affordable health care; and only 4% said that freedom meant protecting our environment and planet for our kids, grandkids, and future generations.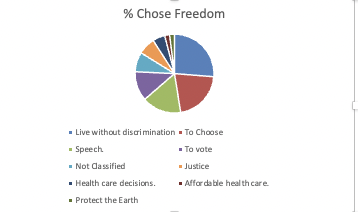 The MDC wants to help local citizens and all parties be informed about these issues. We invite policy makers, candidates for office, local officials, and all interested parties to address these issues at our monthly meetings on the second Saturday of each month.